Dedicated to coverage of UND Hockey; aka the team formerly known as the Fighting Sioux.
Sunday, November 10, 2013
Sunday, February 10, 2013
And enjoy taking flak, I'd like to post (hopefully) a short video I took of the boys coming out of the chute at
TD Ameritrade Park
. Unfortunately I was unable to get to the proper side of the walkway and my batteries ran out when they were coming off the ice after the victory. So, best I could do but it was fun to be so close to the action.
In a bit of fun news:
Todd Anderson
gave me a glare when I yelled out "Hey Todd, have a good game." Another fan asked him for a puck and he said he didn't have one (and obviously he didn't but it didn't stop that fan) but it was interesting to note that he considered the request despite the fact.
I also found it interesting to see Hakstol in a UND letterman's jacket. I've worn those things and with the wind and rain and cold, he HAD to be freezing his backside off by the end of the 2nd period if not sooner.
Oh and one last thing: Biggest gaff not made on the ice goes to the guy who runs the jumbotron and sound. During the
USHL
game, the powers that be decided to try to get everyone to sing "Take me out to the ballgame." Uh, really? I mean... do you know what's going on right now? It wasn't necessarily a bad thing but it registered on the WTF scale.
Saturday, February 09, 2013
North Dakota Forward Lines
19 Rocco Grimaldi–10 Corban Knight (A) –7

Danny Kristo

(A)
9 Drake Caggiula–27 Carter Rowney (A)–15 Michael Parks
25 Mitch MacMillan–16 Mark MacMillan–17 Colten St. Clair
8 Dan Senkbeil–28 Stephane Pattyn–11 Derek Rodwell
North Dakota Defense Pairings
2 Andrew MacWilliam (C)–18 Dillon Simpson
4

Derek Forbort

–24 Jordan Schmaltz
5 Nick Mattson–20 Joe Gleason

North Dakota Goalies
31 Zane Gothberg
33 Clarke Saunders
Nebraska-Omaha Forward Lines
23 Searfoss – 21 White (A)– 13 Raubenheimer
17 Walters – 14 Zombo – 15 Archibald
9 Polk – 25 Gwidt (C) – 28 O'Rourke
4 Turgeon - 27 Pearce – 19 Lane
Nebraska-Omaha Defense Pairings
8 Megna – 3 Sustr
2 Cooper – 24 Aneloski
11 Seeler – 7 Young
Refs:
Don Adam, Todd Anderson
Linesmen: Chad Evers, Scott Fitzpatrick
Scratches:
10 Simonson; 12 Montpetit; 16 Krause; 18 Adams; 22 Schmit
Omaha lines supplied by Radio Free Omaha.
CONFIRMED: The broadcast will remain on Midco channels 27 and 622. The SDSU WBB game will instead be moved to channel 323.
— North Dakota MHockey (@UNDMHockey) February 9, 2013
The UND Hockey game originally scheduled to air at 4pm has been delayed to 6PM. The SDSU women's bb game will be on MidcoSN channel 323
— Midco Sports Net (@MidcoSportsNet) February 9, 2013
The sun and warm temperatures have caused havoc with the ice. The delay will allow the rink to be fully shaded by game time.
— UNO Athletics (@omavs) February 9, 2013
Posted by

Eric Burton
at Saturday, February 09, 2013


Links to this post
Hello again, Hockey faithful!
Last night was the indoor game (odd to distinguish two hockey games that way but anyways) for the UND vs. UNO game and I'd like to post my thoughts on the game.
First, disappointment for Real Life. Due to circumstances that were outside of my control (but within control of students' parents involved... GRRR) I got out of work late so... I missed the first 10 minutes of the game and entered
CenturyLink
just in time to hear the goal announcement for Rocco's goal. I was mad I was late to begin with but........
Second, I had awesome seats. I was thinking it would be like 2 years ago where I was the lone
Sioux
jersey in a sea of red (stupid UNO ticket office gave me the wrong section). In truth, I was awash in a sea of green. Then again, it seemed to me that the UNO crowd comparison between this year and the last time the two teams faced off was quite different. Seemed to be much less UNO fans than 2 years ago. There was just under 10,000 in attendance which was interesting to me because the lower bowl looked mostly full. There was no razzing by UNO or UND fans in my section although there were a lot of young kids and one foul mouthed Sioux fan two rows up from me. Guess I get sensitive to such things when your normal job is that of an elementary school teacher.
Third, Kristo was good but Rocco was better. Kristo's game was undoubtedly great (He was named First Star of the game) but I thought Rocco was making great plays all game long. Honestly, though, the person I expected to notice more was Corbin Knight. I don't have any stats and I noticed him on the ice, but he, to me, had a rather quiet night. However, the UND player to me that stood out (bearing in mind I missed the first 10 minutes of the game) was Zane Gothberg. He came up HUGE all night long in his positioning. Very solid. UND's defense took several plays off and got lucky several times (I noticed at least 2 times in the 2nd and 3rd periods where UNO players had open shots between the faceoff circles down low but whiffed on the shots as well as 5-7 wide open shots and a blown 2 on 1). UND's defense seems more physical on TV than live... if that's even possible.
Fourth, I trust the Turgeon hit as Goon stated to be questionable on TV but live in real time at the arena, it definitely looked like a major. They didn't show the replay so I just assumed at the time that it was legit. The officials must have thought it was a bit harsh because I do not recall UND having another PowerPlay the remainder of the game, just 2 bouts of 4 on 4. I counted 2 interference/tripping noncalls on UNO and 1 on UND throughout the night. The interference call on Forbort (live without replay) seemed questionable. Overall, though, I thought
Todd Anderson
did ok... He kept the major penalty delay down to 10 minutes instead of his usual 20 minutes. Again, maybe it was being there that tempered my usual rage vs. the stripes.
Fifth, big props to CenturyLink! They played Gungnam Style a grand total of 0 times while I was in attendance! I probably missed it. I'm not crying about it.
Finally, I look forward to today. It's going to be fun, but cold. I just hope I can see them playing hockey instead of two differently colored sets of helmets skating back and forth.
Posted by

Redwing77
at Saturday, February 09, 2013


Links to this post
Friday, February 08, 2013
North Dakota Forward Lines
19 Rocco Grimaldi–10 Corban Knight (A) –7 Danny Kristo (A)
9 Drake Caggiula–27 Carter Rowney (A)–15 Michael Parks
25 Mitch MacMillan–16 Mark MacMillan–17 Colten St. Clair
8 Dan Senkbeil–28 Stephane Pattyn–11 Derek Rodwell
North Dakota Defense Pairings
2 Andrew MacWilliam (C)–18 Dillon Simpson
4 Derek Forbort–24 Jordan Schmaltz
5 Nick Mattson–20 Joe Gleason
North Dakota Goalies
31 Zane Gothberg
33 Clarke Saunders
Nebraska-Omaha Forward Lines
11 Nick Seeler–14 Dominic Zombo–21 Matt White (A)
23 Johnnie Searfoss–25 Brent Gwidt (C) –28 Brian O'Rourke
17 Ryan Walters–15 Josh Archibald–13 Zahn Raubenheimer
19 Tanner Lane–27 Aaron Pearce–22 Andrew Schmit
Nebraska-Omaha Defense Pairings
8 Jaycob Megna–3 Andrej Sustr
2 Brian Cooper–24 Bryce Aneloski
4 Tony Turgeon–7 Michael Young
Nebraska-Omaha Goalies
29 Dayn Belfour
30 John Faulkner (A)
Refs: Don Adam, Todd Anderson

Linesmen: Chad Evers, Scott Fitzpatrick
Thursday, February 07, 2013
This weekend, the
University of North Dakota
travels to Omaha, Nebraska to play the Nebraska Omaha Mavericks in a pivotal two game
WCHA
series at CenturyLink Center (Friday) and the TD Ameritrade Park (Saturday).
Matchup
: North Dakota (14-8-6, 9-5-6
WCHA
) #7 versus #14 Nebraska Omaha (16-10-5, 12-6-2 WCHA).
Dates:
February 8-9, 2013
Times:
February 8: 6:37p.m. (CT); February 8: 4:07 p.m. (CT)
Radio:
UND
96.1 (KQHT-FM)
– The Fox.
TV Friday:
NBC Sports Network, channel 220 DirecTV
TV Saturday:
Midco Sports Network, Cox Communications
Webcast:
AmericaOneSports.com
SERIES HISTORY: All-Time:
The Series is tied between UND and UNO 3-3.
In Grand Forks, ND the series is tied 2-2. In Omaha, the series is tied 1-1.
Players to Watch:
North Dakota
:
Forwards
: Corbin Knight (12g-24a—36pts),
Danny Kristo
(16g-19a—35pts),
Rocco Grimaldi
(9g-13a—22pts), Mark MacMillan (9g-9a—18pts), Carter Rowney (6g-10a—16pts), Drake Caggiula (6g-6a—12pts).
Defense:
Dillon Simpson
(2g-14a—16pts),
Derek Forbort
(4g-8a—12pts), Joe Gleason (4g-9a—13pts) Jordan Schmaltz (1g-6a—7pts) Andrew MacWilliam (1g-5a—6pts).
Goaltenders
: Clarke Saunders 10-5-4, 2.34 GAA, .914 save percentage, Zane Gothberg 4-3-2, 2.62 GAA, .910 save percentage.
Nebraska-Omaha:
Ryan Walters
(16g-24a—40pts), Josh Archibald (15g-12a—27pts), Dominic Zombo (9g-17a—26pts), Matt White (14g-11a—25pts), Johnnie Searfoss (8g-8a—16pts),
Defense:
Andrej Sustr
(7g-13a—20pts) Bryce Aneloski (4g-11a—15pts).
Goalie
: John Falkner 15-5-2, 2.72 GAA, .897 save percentage.
UND Officials Web Page
UNO Official Web Page
Cross Posted at
the Hockey Writers Combine
...
Posted by

Eric Burton
at Thursday, February 07, 2013


Links to this post
Wednesday, February 06, 2013
As life has been kicking my tail up and down as of late (thanks work and grad school), I'll leave the statistical comparisons and intel stuff to Goon. However, as someone who lives in Omaha and is attending this weekend's festivities, I wanted to share with all of you my expectations and some recommendations.
First, Omaha. Omaha is a nice town with good people. Downtown is a cool area. The Old Market is fun to walk in good weather. Food is excellent. I don't eat down there a lot, since I live about as far away from Downtown Omaha as one can get and still be in the Metro area (it seems anyways). But here's a few recommendations: First, sushi.
Blue
is a great stop for sushi. Enjoy classic pub cuisine with new age flair? How about
M's Pub
? I love this place. The spinach salad with the hot bacon dressing is incredible and that's just the opener! Prices are decent.
If you are into salads but the rest of you prefer soups or pizza or even hot sandwiches, then
Ingredient
is the place to go. They have an ingredient menu the size of a small van for their salads and their portion sizes are excellent. It's a bit steep if you are going just for a salad but the taste is fantastic.
There's a ton more. I'm sure some readers here would add in even more and I encourage any who have partaken downtown cuisine to jump in.
If you are looking for something to do Saturday Morning (or early afternoon if you aren't going to the Lancers vs. Stars USHL game), going to the Durham Museum is a must see. It's nicely located near or just adjacent to the Old Market and it's pretty decently priced. You can also go to the zoo. Omaha's Henry Doorly Zoo is the best zoo in the world as far as I'm concerned. I think it's ranked #1 or #2 among Zoos in the US.
The forecast is calling for 30s to 40s and a good chance of rain and snow. So pack accordingly.
Friday Night's Game:
This will be a typical affair being that it is in the CenturyLink (formerly the Qwest) Center. If you are feeling generous, my coworker's brother owns a parking lot right across the street (literally) from the front entrance. It is on 9th and Capitol. Cost to park is $8 or so. Most expensive I've ever seen it is $10.
Saturday's Game:
Honestly, if UND wasn't playing, I wouldn't go. I dislike outdoor games. Goon is right to think that he'll get a better look at the game watching it on TV. The worst aspect of the game is that there is no such thing as a good seat in the house. I've been to TD Ameritrade many times for football and it's the same deal. You are far away. The difference with hockey is that if you want elevation to look down at the ice you are going to get even further away. Following the puck live will be tricky. It is, however, a very nice facility with above average plastic seating (not good for bad backs but not the worst) and the typical horribly overpriced but decent food.
I also expect for the conditions to be less than perfect. You can tell me about how technically sound the outdoor rink structures are but in the end, hockey isn't meant to be played on a surface like a baseball field/football field like TD Ameritrade Park. I expect the puck to bounce all over the place right away in the game. I also expect a lot of falling players due to catching edges and ice imperfections.
As a fan, I also expect to be buried among people who are there for the event rather than any semblance of caring for the game. Omaha is very much an event town. Nevertheless, I'll go and see the boys fight hard.
I'm hoping for 3 points but a split isn't out of the question. I also believe that the outdoor game will be VERY sloppy.
Posted by

Redwing77
at Wednesday, February 06, 2013


Links to this post
Tuesday, February 05, 2013
Posted by

Eric Burton
at Tuesday, February 05, 2013


Links to this post
Thursday, January 31, 2013
GRAND FORKS, N.D. --
Midco Sports Network (MidcoSN) announced today that it will broadcast the University of North Dakota's outdoor hockey game at Nebraska Omaha on Saturday, Feb. 9, at TD Ameritrade Park Omaha, the site of the College World Series.
The game will air live on MidcoSN at 4 p.m. Central and is part of a doubleheader billed as the Mutual of Omaha Battles on Ice that will also feature a United States Hockey League (USHL) game between the Omaha Lancers and Lincoln Stars.
MidcoSN is picking up the Cox Communications production of the game, with veteran hockey broadcaster Gary Sharp handling play-by-play duties.
UND's Friday, Feb. 8 game at UNO will be broadcast live on the NBC Sports Network, with Dan Parkhurst and former National Hockey League player Ken Hodge calling the action. The puck drops on Friday at 7:37 p.m. Central.
MidcoSN is avaialble on channels 27 and 622 in the Grand Forks viewing area. Consult your local listings for additional information.
UND Men's Hockey vs University of Nebraska – Omaha LIVE on Sat, Feb 9, 2013 at 4 PM (CT) on MidcoSN.bit.ly/11mZwln
— Midcontinent (@Midcontinent) January 31, 2013
Wednesday, February 15, 2012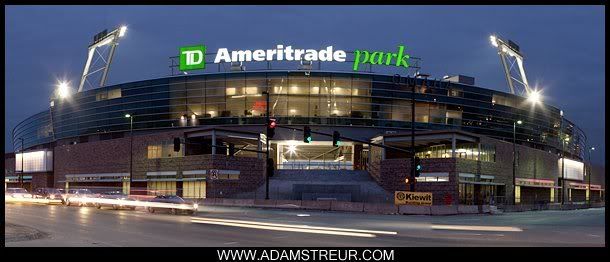 MEN'S HOCKEY – FEBRUARY 14, 2012
FOR IMMEDIATE RELEASE - Official Press Release
North Dakota, Nebraska Omaha to play outdoors in February 2013
Tickets go on sale in October 2012
OMAHA, Neb. –
The University of North Dakota men's hockey team will face the University of Nebraska Omaha in an outdoor game on Feb. 9, 2013 in Omaha at the home of the College World Series.
The Omaha Sports Commission, Metropolitan Entertainment & Convention Authority (MECA), University of Nebraska Omaha, Omaha Lancers and Mutual of Omaha jointly announced TD Ameritrade Park Omaha will be the site for this first-of-its-kind hockey event. The Mutual of Omaha Battles on Ice will feature the Omaha Lancers playing United States Hockey League opponent the Lincoln Stars at 12:30 p.m., followed by the UNO Mavericks facing off against Western Collegiate Hockey Association foe the North Dakota Fighting Sioux.
Tickets for the two games will go on sale Monday, October 1, 2012, and prices will start at $30. One ticket will cover both the Omaha Lancers and UNO Mavericks games. Officials expect the Mutual of Omaha Battles on Ice will draw hockey fans from across the region. UNO and Omaha Lancer season ticket holders will be able to order tickets for the game during their regular ticket renewal program. Tickets will be sold to the public through ticketmaster.com and the CenturyLink Omaha box office.
"Outdoor hockey games have become extremely popular in cities around the country and we think games featuring UNO, the Omaha Lancers and their rivals will be a big hit in Omaha," Omaha Sports Commission President Harold Cliff said. "The Omaha Sports Commission is proud to host this event and we want to thank Mutual of Omaha for serving as title sponsor of this unique sports competition.
"We believe outdoor hockey will be extremely popular at TD Ameritrade Park Omaha," MECA President and CEO Roger Dixon said. "Our goal is to offer a wide variety of sporting events at the ballpark and we think outdoor hockey will be an exciting attraction."
"This will be a tremendous event both for our long-time fans and folks who may be relatively new to college hockey," UNO's Director of Athletics Trev Alberts said. "As we attempt to grow our flagship sport, a game like this will showcase all that UNO hockey has going for it – a supportive community, great facilities, outstanding opponents and national exposure."
"Our players are already excited to play in a game like this, which is sure to receive plenty of local and national attention," said Dean Blais, UNO Mavericks head coach. "We have had very competitive games against North Dakota since we joined the WCHA, and playing outdoors in front of a big crowd will only make these games more fun for everyone."
"Lancers fans have seen a lot in the long and storied history of the Omaha Lancers, but they haven't seen anything like this," Omaha Lancers President and Managing Partner Ben Robert said. "This year begins with the opening of our new arena in Ralston, while the February 9 Mutual of Omaha Battles on Ice will showcase two fixtures of the Omaha sports community against two of their biggest rivals in what will be a day the City of Omaha will never forget."
"An extraordinary amount of hard work has been done to make this event possible," said Mike Aikens, Omaha Lancers head coach. "It will be a great day for hockey, the people of Omaha and State of Nebraska."
"Bringing these two teams together in an event like this will only add to the intensity that has been established over the years," said Chad Johnson, Lincoln Stars head coach. "We're looking forward to being a part of it."
This game will be an exceptional, and unique, opportunity to showcase collegiate hockey," said North Dakota Athletics Director Brian Faison. "We are looking forward to a great event."
"This will be a great event and an exciting venue to continue building the healthy rivalry that we have with the Mavericks," said Dave Hakstol, North Dakota Fighting Sioux head coach. "Our team and fans are looking forward to the opportunity to be part of an outdoor game that is sure to bring national attention to college hockey."
"The UNO Mavericks and Omaha Lancers both have outstanding hockey traditions and Battles on Ice will showcase these two great teams as never before," Mutual of Omaha Senior Vice President John Hildenbiddle said. "Mutual of Omaha is very proud to sponsor this unique event, further establishing Omaha as the nation's amateur sports capital."
Posted by

Eric Burton
at Wednesday, February 15, 2012


Links to this post