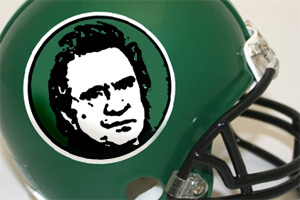 Kurt Snibbe/ESPN.com
Proposed Fighting Sue helmet logo.

Someone posted this article on
Sioux
Sports – I believe it was a Bison fan. If you haven't seen this it's worth a quick look. The reason that UND hasn't been in March Madness is that UND just finally finished their transition to
Division I
in all sports, I expect that eventually UND will make the
NCAA
Men's and Women's Basketball tourneys as well.
Low Graduation Rates? Fine with the NCAA.

Two Feathers? OMG! Over at the

University of North Dakota

, the state's voters recently endorsed a referendum to drop

the Fighting Sioux

nickname. Right now the school's teams are the -- we'll get back to you on that, as UND teams have no nickname at the moment.




The NCAA ordered the University of North Dakota to drop the Fighting Sioux nickname and cease using a Sioux head image drawn by a Native American artist. The NCAA also ordered

William & Mary

to cease using a two-feathers sports logo. Yet the NCAA is fine with the

University of Utah

's American Indian nickname, the Utes, and its two-feathers logo.




What's the distinction here? Money. The

North Dakota

men's basketball team has not made the March Madness event in 20 years. William & Mary has never made the men's tournament. Neither the University of North Dakota nor William & Mary provides the NCAA with the only thing it cares about: greenback dollars. The University of Utah, on the other hand, has 26 March Madness appearances, including 12 of the past 20 tournaments. Because in the case of the Utes, the American Indian imagery generates cash for the NCAA, all is well.




Since the University of North Dakota needs a new nickname, TMQ proposes the Fighting Sue, perhaps with Johnny Cash theme music.
That being said, UND is usually in the NCAA Division I playoffs for hockey every season but once (missed NCAA playoffs in 2001-02) since 1997 and last season was the first time during the span that UND didn't wear the Fighting Sioux logo during the
NCAA tourney
. I am not so sure that the Johnny Cash Logo would catch on either. :) I did get a good chuckle out of that one though.
I do think it's funny sometimes how the NCAA picks certain issues like Sports Team logos over more important issues like graduation rates.