Dedicated to the coverage of UND Hockey. The team formerly known as the Fighting Sioux.
Friday, July 25, 2014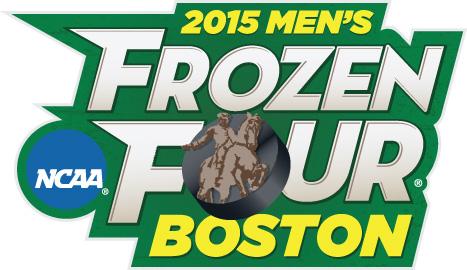 Not a big fan of this one. Looks like NDSU is hosting the
Frozen Four
. Thoughts on this logo?
Monday, June 16, 2014
Posted by

Eric Burton
at Monday, June 16, 2014
No comments:


Links to this post
Wednesday, September 18, 2013
I would have to say that even former University of Minnesota Gopher and Notre Dame head football coach Lou Holtz gets it. But for some reason, the two schools can't seem to put their differences and pride aside to make this happen.
By the way, anyone that thinks this match-up isn't beneficial to both schools, is delusional and out of touch with reality. Also, FBI University aka FU, isn't always going to be on top of FCS forever.
GRAND FORKS, N.D. – Former Notre Dame football coach Lou Holtz told North Dakota State University and University of North Dakota presidents this week he can't believe the two longtime rivals don't play each other.

The ESPN football analyst is in Grand Forks to speak to the North Dakota Petroleum Council annual meeting this morning. Holtz said he enjoyed having dinner Tuesday night with presidents and athletic directors from NDSU and UND.

"I just think that is insane that two great schools, 70 miles apart or so, are not playing one another," Holtz said.

Holtz, who also coached at the University of Minnesota and in the NFL, now works as an analyst for ESPN. The cable network is bringing its GameDay pregame show to broadcast from Fargo on Saturday.

"North Dakota State can fill up the stadium anyway, but it'd be a great money-maker for both schools, I think," Holtz said. "The Legislature needs to get involved."

Holtz said he predicted on four shows that NDSU would beat Kansas State and called it a "no-brainer" to pick the Bison.
Begin Rant: What the hell was former UND Athletic Director Roger Thomas thinking back in the days when NDSU made the transition to FCS Football. For some reason, we're still paying the price for this man's short sightedness. NDSU and UND are playing in every other sport but FCS Football. I just don't get this mind set.
Posted by

Eric Burton
at Wednesday, September 18, 2013


Links to this post
Thursday, July 25, 2013
The
Fargo Forum
probably was falling all over itself to put up that headline. To quote the A.P. article that the Forum doctored, "[Pat] Behrns had been head coach of the
University of North Dakota football
team from 1980 to 1985." Behrns hasn't coached at UND for 28 years. This is the same newspaper that won't hold their head football coach or the football players at
NDSU
accountable.
Tuesday, June 18, 2013
September 19th, 2015: Could that be the day when #NDSU and #UND end the drought? Bison have only Montana scheduled for that year #FCS
— Dom Izzo (@DomIzzoWDAY) June 19, 2013
Tonight, there was a tweet WDAY's Dom Izzo and apparently there's a chance that the NDSU and UND might resume the historic rivalry and begin playing football in 2015. That would be awesome news if true.
I was also re-reading an
old blog post from last November
and of course there was the usual and predictable
moronathon
of comments from NDSU fans. You know, "the who needs UND, blah, blah, blah"…Kind of reminds me of the comments I have seen made from another rival or ours.
Look, when I went to school at UND, the
Sioux
vs the Bison football game was one of the hottest tickets in town, it was a very fun rivalry. I don't understand why people are still biter on both sides, after all of these years. Sure, Roger Thomas made a poor decision by deciding not to continue playing NDSU, but he has been gone from UND for a long time.
Lastly, I found a comment from a fan that really hits a home run. Also, this guys comments kind of puts things in perspective. Check it out. I would love to buy this guy a beer, because he gets it. Seriously, he's right, do NDSU fan "really" want to see the Bison play some slouch team, that fits the weak sister of the poor label, or do they want to play a real rival?
Tuesday, January 29, 2013
Since they're not NDSU football players they will probably have the book thrown at them by the NDSU athletic department.
FARGO – Two people have been charged in Cass County District Court in connection with incidents that occurred on Nov. 30 and Dec. 1 and involved individuals who at the time were members of North Dakota State University's women's softball team.

The charges stem from an initiation party for freshman players that included beer-chugging contests and forced shots of liquor, one of the players allegedly told police.



Cassidy Szeredy is charged with harassment and disorderly counduct, a Class A misdemeanor and a Class B misdemeanor, respectively, according to a Monday afternoon news release from the Cass County State's Attorney's Office.
So, today we find out that two NDSU Bison softball players Alexandria Sobrero and Cassidy Szeredy are facing charges of harassment and disorderly conduct as the result of a team party that went south late last year. This comes on the heels of five UND hockey players being charged for allegedly supplying alcoholic beverages to minors during a team party prior to the 2012-13 season.
It will be interesting to see how the NDSU athletic department handles this case. We will see if the NDSU softball team has a win all cost attitude or will these two players sit out a game or two.
Tuesday, October 02, 2012
I know this isn't hockey related but it's kind of a big deal to the people of
North Dakota
. I am also going to get back to covering UND hockey starting tomorrow when I go to the Hockey media luncheon, that I promise you.
This evening, NDSU
head football coach
Craig Bohl
,
Athletic Director
Gene Taylor
and University President Dean Bresciani addressed the
Fargo
media on why the
North Dakota State University
didn't suspend nine of the 10 players that
plead guilty
to violating North Dakota election laws. In other words, only one player is going to get suspended for basically screwing up a petition drive that
Ducks Unlimited
was going to spend hundreds of thousands of dollars on promoting.
So, whether those in Fargo to include fans of the Bison Nation want to acknowledge this or not – this this kind of a big deal – these football players attempted to selfishly circumvented the election process – these guys attempted to defraud the state of North Dakota for personal gain. That is a serious deal – I don't buy this crap about the players not really understanding what they did – that is absolute
balderdash
. These are adults and their actions have consequences and playing football for North Dakota State University is a privilege not a right – the Bison players in this case are also not the victims some have made them out to be.
If the NDSU coaching staff had just decided to suspend the players involved in this crime during the
RMU
game, this would have been over and it would have ended all of the speculation that has taken place since with each passing day.
Posted by

Eric Burton
at Tuesday, October 02, 2012


Links to this post
Sunday, September 09, 2012
North Dakota State Bison athletic logo (Photo credit: Wikipedia)
I think I got this figured out; the message coming out of Fargo, ND – if you're an athlete at
North Dakota State University
– more specifically – if you're a starter on the
Bison football
team – you don't have to suffer the consequences for your actions. Apparently, being called out in the media for your moronic and buffoonish actions is considered suffering enough. I am going to say Barbra Streisand on this one.
Apparently, North Dakota State University officials don't think that it's a big deal to subvert elections laws and commit election fraud – sounds like the NDSU football coach doesn't feel that players on his team need to follow the rules that the rest of society follows.
Kevin Schnepf, INFORUM --- After the 6,000 Bison fans who made the trip to Fort Collins celebrated yet another win over a big-time opponent, they couldn't help but wonder if any of the Bison players are going to eventually face suspensions for their involvement in the highly publicized petition fraud case.

NDSU athletic director Gene Taylor quickly answered that question after the game:

"There are not going to be any suspensions," Taylor emphatically said after the game. "These kids don't deserve a suspension. I'm not going to suspend them and neither is Craig (head coach Craig Bohl). As far as we are concerned, it is over."

This statement was made with NDSU President Dean Bresciani standing only a few feet away. Bresciani said he did not want to comment, saying he does not comment on inner-department matters.

This statement, no doubt, is going to add plenty of fodder for those who think the current 10 Bison players who were charged for forging names on petition drives should be suspended. There were even some Bison boosters at Saturday's pregame tailgating festivities who were anticipating some sort of suspension once these players have their day in court.

"What's going to happen in court, in my opinion, is going to be a lot less than what people think," Taylor said. "At the end of the day, these kids have been through enough."
All you have to do is read these quotes below by NDSU athletic director Gene Taylor – this is a text book definition of the arrogance by a public official – it's also apparent that the NDSU athletic director is delusional and out of touch with reality. North Dakota State University is a public university that is paid for by public funds received from state income taxes, that the state of North Dakota assesses the good people of the great state of North Dakota – that means that the athletic department is accountable to us – the tax payers in North Dakota.
"It's over," Taylor reiterated. "They felt horrible, they felt horrible. Every day, their pictures are in the paper, day after day after day. It gets and old and it does get to them.

"They were villified many times over and to come out and perform like they did, it's hats off to them. I'm tired of talking about it and I'm tired of seeing it in the paper. People need to move on because it's not changin
Let's look at it this way – you're representatives of the defending FCS National Champion – players on your teams – some of which are starters (4) – committed a crime. That's nothing to sneeze at – this isn't a status offense – this is an actual Class Misdemeanor.
Schnepf: Taylor says players charged in petition fraud scandal won't be suspended #NDSUBison shar.es/uoHEz
— Eric Peterson (@FargoBigE) September 9, 2012
Tuesday, September 04, 2012
As a fan that can remember the NDSU and UND rivalry so many thoughts come to mind – I am sure that others can come up with their own.
Nice to see that nothing has changed at NDSU – also –
it will be interesting to see if any of these players are in the lineup next weekend when the Bison play the Colorado State in
Fort Collins, Colorado
.
"
North Dakota State University
football coach Craig Bohl says the eight
Bison football
players charged with petition fraud won't be suspended...at least for now." You can listen to the press conference that was
held on AM 740 the fan
.
Don't count on any players for NDSU Sitting out this week...
Accroding to
Jeff Kolpack of the Fargo Forum
- NDSU Head Coach Craig Bohl said he's known about situation for quite some time. Players deserve day in court.
Here is the link to the North Dakota Attorney General's page... [
ND AG
]
Forum staff reports, INFORUM --- Eight current North Dakota State University football players and one former player are among 11 people facing charges in connection with voter fraud tied to general election ballot measures.

Four of the accused are starters on the football team.

North Dakota Attorney General Wayne Stenehjem and Secretary of State Al Jaeger identified the individuals charged as: Aireal Boyd, Josh Colville, Josh Gatlin, Demetrius Grey, Jennifer Krahn, Lane O'Brien, Samuel Ojuri, Brendin Pierre, Antonio Rodgers, Bryan Shepherd and Marcus Williams.

All have are charged with facilitation of voter fraud or filing a false statement, according to Stenehjem and Jaeger.

The charges are Class A misdemeanors.

Criminal complaints claim that all circulators of a petition are required to sign an affidavit stating they witnessed all the signatures and that all signatures are genuine.
Some over on Bisonville the Bison fans are taking a wait and see look at the new revelations about their beloved football team – some seem to think that it's a minor issue or are already looking for a way to deflect blame and claim that it's political. Let's blame UND for our problems.
While it's funny because it's NDSU, we will see how this plays out in the coming days; this could end up being a distraction that NDSU didn't want to have any part of. Some will say that it's a lot to do about nothing - yeah okay! I don't think that messing around with elections or committing fraud isn't something I want to be associated with nor is it a minor infraction.
Break out the tin foil hats
EDIT:
One NDSU fan even suggested
that this is a conspiracy; I am not making this up. Just for the record – I would highly doubt that the A.G. of North Dakota would simply go on a witch hunt against the other school for something like this.
Wayne Stenehjem was born in Mohall, North Dakota, and he graduated from Bismarck High School in 1971 and Bismarck State College in 1972. He attended the University of North Dakota and the UND School of Law, graduating in 1977.

Jaeger was born in Beulah, ND in 1943. Raised in Beulah, he graduated from its high school in 1961. He attended Bismarck State College and in 1963 earned an Associate of Arts degree. In 1966, he received a Bachelor of Science degree from Dickinson State University majoring in Business Education with a minor in Speech. He also completed post-graduate work at the University of North Dakota
Get out those tin foil hats folks, the North Dakota A.G. is out to get NDSU because he is a graduate of North Dakota.
Seriously?
Lastly, you would have to be a complete
imbecil
to think that the Attorney General of the great state of North Dakota Wayne Stenehjem and Secretary of the
State of North Dakota
Al Jaeger would conspire against NDSU just because they went to UND?
Posted by

Eric Burton
at Tuesday, September 04, 2012


Links to this post
Tuesday, August 03, 2010
This is for the people that haven't seen this. It will be interesting to see how the NDSU Bison fans over on
Belligerentville
spin this.
Crickets chirping
...
A second former North Dakota State football player has pleaded guilty to felony theft in connection with a theft ring at a Best Buy store in Fargo.

Garrett Johnson was sentenced Monday to the two days he had already served in jail, 50 hours of community service, 18 months of supervised probation and a $500 fee.

In June, former player Greg Reid Jr. pleaded guilty to theft and was given a suspended jail sentence and probation.

Twelve people are charged in the case, which authorities say involves as much as $150,000 in merchandise taken from the store between last September and February.

Johnson, a defensive end from Chaska, Minn., and Reid, a defensive tackle from Milwaukee, Wis., were dismissed from the team in April. [Grand Forks Herald]

Posted by

Eric Burton
at Tuesday, August 03, 2010
2 comments:


Links to this post